Discover more from The Gorgon
This is the caliphate for 1) A series of lessons on how to live a fulfilling life for my daughter which spares her the dear costs I paid and 2) My crazy-insane life, which took me 50 years to realize just how nuts it is. 3) How to cut costs and keep more.
Guess What I'm Building?
It's an ingenious solution that once again we must thank the Romans for
After building an awesome but not woodworking-friendly workbench, and then having to sell the same bench and say goodbye to all the tools with it, I've been bereft.
No workbench. I built some Japanese-style sawhorses which I posted about here, but I need more and this place isn't getting any bigger.
The Writer's Block is a reader-supported publication. To receive new posts and support my work, consider becoming a free or paid subscriber.
After a lot of deliberation I've decided to go with Chris Swartz's/Rex Kreuger's $30 Roman bench, which has been officially forked, and what I'm building will be designed around the space I have. I see no need for a 7 or 8-foot bench, for example. Where I am now, at least. It would be a spectacle to get a piece of full plywood in there. And I've got to get some dust reduction system.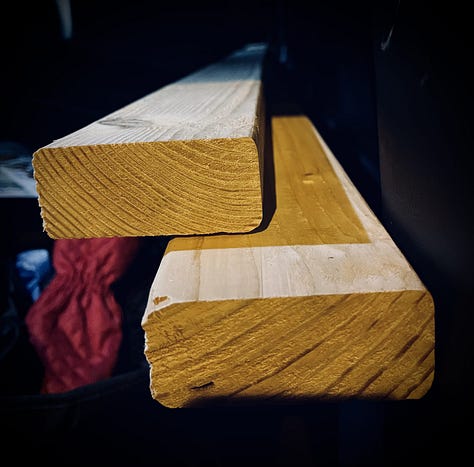 I also landed a Jorgensen hand plane which I need to dial in for this project and otherwise, which means I need sharpening stones(It never ends) and this plane is almost an exact copy of the eponymous Stanley #4.
Rex bashed this plane, but out of the box, it's really not bad. Expectations should be high, but realistic.
I was worried about the handle size, but it fits my hand(s) very comfortably, and I have average/larger hands. I'm not sure I agree with his analysis of the angle of the Jorgensen handle being at a poor angle. It all depends on how you're postured and the strokes you're taking, I believe.
This #4 hand plane is WAY sharper, heavier, and better made than the ones at lower price points. That's what I had for years and knew NOTHING about, which I don't even want to think about, so vintage planes are my baseline. I had TONS of vintage tools, which I never even considered. They're good quality, but like everything, it all changes.
The quality's unmistakable of the Jorgensen. The price is what got me. No, it's not a vintage Stanley, it's brand-new. It was $70. It's precision-milled. And it has some premium features - the adjustment knob and lever for example, where else are you going to get them at this point? Answer: nowhere!
So I'm going to cut the 2x4's to length tomorrow with my circular saw - I finally get to use it with its fancy new blade - so I don't wake up the world, Then glue up 2 parts, and when those are dry, glue those together, making a slab. I'm also going to cut on board for accessories, which I'm stoked about.
I now have a DeWalt 20ox camp hatchet, which is dull as a stump, and I need to sharpen it somehow, to make the legs. Always something. Everything else is ready to go, including me. I'm excited to finally have a bench! This is going to be perfect. I'll need to plane it down flat, and wax it, and if I can put a wood vise on it I'll be in business. My little girl's going to like it as a bench, too! She can draw and cut and drill and hammer on it with me.
The Writer's Block is a reader-supported publication. To receive new posts and support my work, consider becoming a free or paid subscriber.